Evangelism is merely the first step in making disciples. Believers need discipleship to teach them how to walk in the Spirit as God intended.
Personal life change begins with heart change. As our hearts change, the Holy Spirit brings about personal transformation, which in turn leads to healthy relationships.
Personal life change and godly leadership create thriving congregations. These healthy congregations then perform fruitful outreach, which leads to the multiplication of the Body of Christ.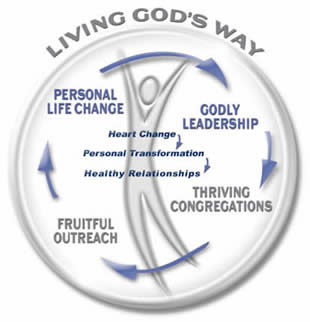 Dr. Henry Brandt, a sought-after international consultant, counselor, author, and conference speaker, possessed a unique background combining multiple degrees in psychology with a keen understanding of biblical principles. He dedicated his life to helping people experience deep spiritual transformation, and equipping them to become godly leaders.
Dr. Brandt saw radical life change in counselees who were willing to apply biblical principles to their
challenging circumstances.
In addition to his counseling practice, he traveled the world ministering to pastors, ministry leaders and missionaries. His work helped congregations and ministries (such as Campus Crusade for Christ) to thrive and become more fruitful in fulfilling the Great Commission.
Dr. Bill Bright, founder of Campus Crusade for Christ, said:
"I consider Dr. Henry Brandt to be one of the most biblically oriented psychologists of our time. His insight and wisdom lay a clear path toward the abundant life that Christ offers to all Christians. He is one of the most astute, productive, and effective communicators of God's Truth, as it relates to people who are in need of special counsel."

Read endorsements from other Christian leaders.
Now, Biblical Counseling Outreach uses the technology of the Internet to continue to minister to individuals, church groups, counselors and pastors all over the world with these same life-changing truths.
Our mission is to teach people throughout the world how to "live God's way."
Through the power of the Holy Spirit:
There are many people all over the world who are experiencing trials that will shape their future. You can help people grow through these opportunities by discovering what God's Word says about them. But we need your help to reach them.
For every $10 contribution, 100 people can be reached. Your tax-deductible donation will help people find the biblical answers that can change their lives forever.

Click here to support this ministry.